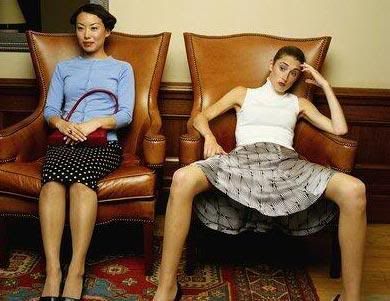 Miss manners I am not-I bet you never would have guessed that huh? I need to know how you all feel about this kind of dilemma I am in. As I said in
my last post
<-- my sons sister is getting married in a week. He is invited to the wedding, I was being considered (pending approval from POS). I ended up telling her to have a nice wedding and don't bother asking POS. Even if he did APPROVE I would have felt uncomfortable there anyway. So I will not be there. I did not get an official invite. Even if I did get an invite, I don't think I would have attended. Therefore I don't think I am obligated to get her a gift.
Am I being too harsh here? I don't think so. She will be lucky if her dad (POS) flips her MAYBE $50.00. That is a BIG maybe. Had I been invited, she would have received a very generous gift-whether I attended or not. I am gonna blow my own horn here and tell you that I can be a very generous person and she knows this. BUT, for someone who chooses to invite a person who will probably spend more time at the bar then at the reception-I don't fucking think so. Sure I am hurt, but I keep going over this in my head and I don't think it is appropriate to have to send a thoughtful, generous gift if you were not officially invited. I have a gift for the baby to give her when she gets here. It is a beautiful painting by
Kim at Small Words
(check her out-her work is amazing). Here is a pic of it below. Thanks again Kim, I love it!
I hook them up at Christmas, Easter, birthdays etc. I RARELY get a thank you for any of it. I chalked it up to all the crap I did to her when I was a mean ass drunk. All words, really mean-awful stuff. I have made amends. I have cleaned my side of the road and have kept it clean since.
So we all know that drunks and addicts are the experts on etiquette. What the hell should I do? If I do not send a gift-it will look like I am pissed because I didn't get invited. That is partly true. But I barely have a relationship with these people anymore other than dropping my son off to visit her whenever she is in town. Tell me - What would YOU do?