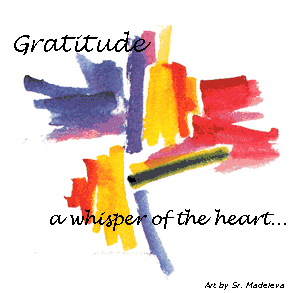 I can't even express here how thrilled I am to finally have my sister here with me.
She is finally free.
I hope and pray that she can be strong and stay focused on what she needs and wants-because if Mama is not happy-nobody is!
I am happy that my son let his walls down and hung out with some children today. I visited family today with both boys and my son was sociable and SMILING today.

I am grateful for my job and all of the freedom I have in the workplace. My job somehow survived through some awful years of my active alcoholism. I am a very lucky girl indeed.
I have some pretty neat people in my life who I am getting to know again. You know - now that I am not living around in that damn bottle anymore. That is cool as hell.
*I left off here the other night, so here is my gratitude continued.....
Good Health-I went to the doctors today and all is well for the most part. BP good, weight not so good. More exercise blah blah blah....Scheduled my mammogram for tomorrow. I been praying for someone to play with the girls but this is just ridiculous.
I went to get my blood work done today and they told me I needed to fast for 12 hours. When I got there it had been like 16 hrs and they told me that was too long. I am not grateful for this, but I thought it was hilarious that someone told me that I had to eat something. Go figure.
My clean home-thanks to my wonderful sister WHO NEVER STOPS tidying up. Not that there's anything WRONG with that. She is a Godsend. We are good for each other. I am truly blessed.
I am grateful that I found an item that has been missing for a few days. I found it IN THE TRASH. How did it get there? I have NO IDEA. Did I mention that it was a CHECK in the amount of $800.00? Thank you GOD.
For being *normal*. HAHA. I just had a friend call me and wants me to go to a speaker commitment with her tonight. She wants to go but wants someone NORMAL to go with. So she calls ME?? HAHAHAHA. Silly woman.
I am grateful for the fellowship of Alcoholics Anonymous. Both in real life and here online. It is a miraculous program for people such as myself who could not stop drinking on their own. It is a we program and without those who came before me I wouldn't be where I am today. Oh I am still a screwed up individual-but its a work in progress. A little progress each day. Progress not perfection. That's for damn sure, at least for me.

That is all for now. Be well my blogger buddies. QUEEN......OUT