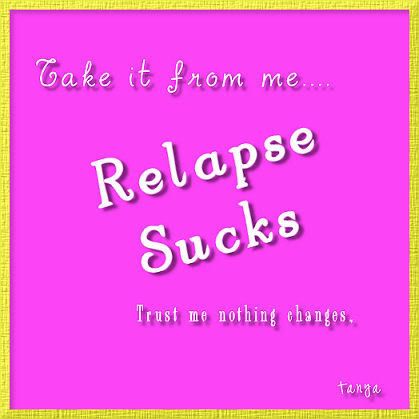 I have a friend who I have been trying to help. I think I mentioned him in an earlier post, just out of rehab, friend of my sisters'. Anywho-he has been out of contact recently and I assumed he had relapsed and I was correct. Sometimes I hate it when I am right. He finally called me last night and he was drunk but kind of coherent. He may not even remember speaking to me. Hell I would talk to all kinds of people back in the day and not remember a thing the next day.
Memories....
Hell I sometimes do that
now
. Some aspects of getting older do suck. It's still a blessing that I am getting older at all. If I didn't quit drinking I know I would probably have died by now.
So anyway, back to my friend. He said that he is going crazy (you think?) and he want to come to the Beach House meeting tonight. I told him he is welcome, no one will judge-yada yada. It's true though. No matter what, you are always welcome back at an AA meeting. He kept going on that he has no one to talk to, no one knows his story, no one drinks like he does/did for the last 30 years. Yes that was probably his drunkenness blabbering on, but if he thinks his story is any worse than any of ours he is sadly mistaken. We all have our stories, our jackpots, we have all hurt our families, etc. Maybe he thinks there are
special meetings
out there for
"special"
alcoholics like him, I don't know. I told him to NOT drink today and get off his ass and come to the meeting. He is kind of shy, but he needs to get involved with some men in the fellowship and start the damn work that it takes to stay sober. Its a lot of work and no one can do it for him. So I hope he sticks around this time. I told him I don't want to lose another friend to this disease and he informed me he wasn't going to drink himself to death. Yea, right.
Just like Jennifer didn't.
I swear this disease is so powerful. I hate it. I hate it enough to continue to try to help those that are still sick and suffering and really
WANT
the help. It is all I can do, and I shall. Gotta go get ready for the best AA meeting in Ct. Queen.....OUT