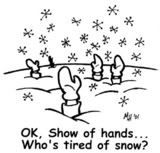 Hey to all my blogger peeps out in
"sober/cyber"
space~Top of the evening to y'all. It snowed
AGAIN
here today, Good lord I was finally able to see the driveway just yesterday! Now who knows when I'll see it again......sometime in the spring at the rate it has been snowing this year.
Snow or no snow, I always hit my Beach House home group meeting on Tuesday night. Seeing as I hold the key, I kinda have to go~
but I am not complaining
. On the contrary, actually. I have had that key for 3+ years now and if I didn't step up and grab that commitment right from the get go at one of my first meetings, well who know where I would be. I shudder to think of it.
I think there were maybe 10 of us there which is about 9 more than I though would come. The diehards, or maybe the ones with 4wd like me. I don't know but it was a good meeting. They are all good actually. I love my meetings, I love all my friends in recovery. I am just a happy camper tonight.
Thanks to all of my new blogger friends for recognizing me on their blogs, sending some very special new people to my neck of the woods. I love to read all of you as well and I just love to read your comments, good, bad, ugly haha-whatever. I love it.
OOOH, I feel a gratitude list comin' on~~~
Special thanks to dAAve and steveroni or their honorable mentions about Queens World in their blogs.....you guys rok


I am grateful that I have a functional, dependable vehicle so I am able to do what I need to do daily


I am grateful that I have a job to drive to every day in said vehicle


Even though my son is going through a rough time, he has moments when I actually see him crack a smile....

even if it is because he farted on the dog

...HE'S SMILING!


I don't care if it snow every stinkin' day until spring, I am happy to be alive to see another day


I am going to get my hair chopped off soon, so I am grateful to my sister who is a kick ass hairdresser-I love u Viv.


My God is good to me today and every day, I hope I never turn my back on Him again


I have learned to let people get to know me again, instead of pushing them away. I USED to do this a lot and that's a pretty shitty way to exist
I need to go order some literature and bumper stickers for my group~YEAHHH I even get to SHOP for them! It doesn't get any better than this, or does it? I think I'm gonna stick around to see. Queenie OUT